Discounts configured here are specifically of the Sales Portal. They cannot be used in the shop, for this please see the voucher codes section.
If Sales Representatives are not allowed to edit the list prices but should still be able to add a discount to a quote, this feature can be used with preconfigured percentage discount rate plans in Zuora.
NOTE: This feature still requires the discount rate plan to be added to the Zuora product catalog and synced in the Subscription Suite.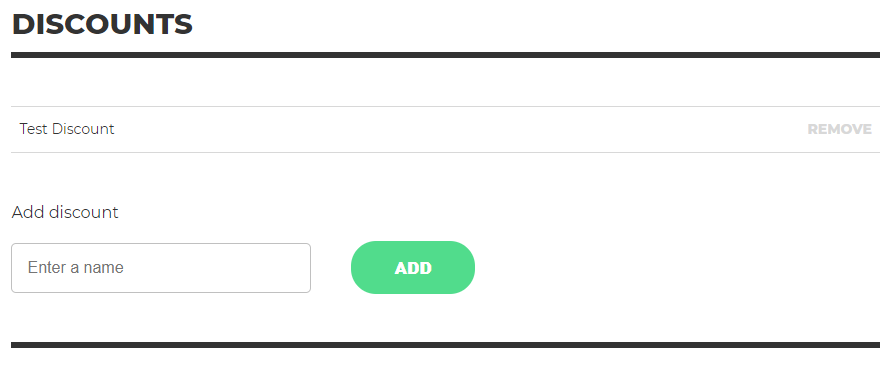 Adding a Discount
Supply a unique name in the Enter a name input field. Click on Add to add your category to the discount list.
Removing a Discount
In the row of the respective discount click on the Remove action. A message will ask for confirmation of the deletion.
Editing a Discount
Click into the row of the discount you wish to edit.

Name: Provide a name for the discount/voucher campaign you would like to offer.
Rate Plan: Search for the appropriate discount rate plan from the product catalog. Start typing its name into the Rate Plan Search field.
Please ensure that a discount rate plan has been previously created in Zuora and synchronized with the Subscription Suite. You can find more information about creating Zuora discount charges in Zuora's Knowledge Center.
Click on Save to store your changes.